Inhalt Hüftgelenksarthrose
Aufbau des Hüftgelenks
Das Hüftgelenk stellt die Verbindung zwischen Rumpf und unterer Extremität dar. Es besteht aus zwei Komponenten: der Pfanne (Acetabulum), die im Beckenknochen ausgebildet wird, und dem Hüftkopf, der auf dem Schenkelhals des Oberschenkelknochens sitzt. Beide Gelenkpartner sind mit Knorpel überzogen. Das Gelenk wird durch eine Kapsel umgeben, die das Gelenk zu einem geschlossenen Raum macht. Dieser ist aufgefüllt mit "Gelenkschmiere" (Synovialflüssigkeit), die durch die Gelenkschleimhaut gebildet wird. Die Gelenkschmiere hat die Aufgabe, die Reibung im Gelenk möglichst gering zu halten und den Knorpel zu ernähren.
Das Hüftgelenk ist ein Kugelgelenk, das Bewegungen in vielen Richtungen erlaubt. So ist das Hüftgelenk nicht nur beim normalen Gang, sondern auch bei Bewegungen wie Bücken, Drehen, Abspreizen und Anspreizen maßgeblich beteiligt.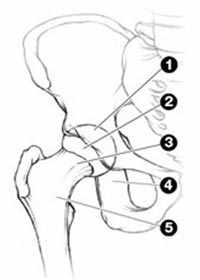 Das Hüftgelenk
Hüftgelenkpfanne (Acetabulum)
Hüftkopf (kugelförmiger Gelenkkopf)
Oberschenkelhals
Beckenknochen
Oberschenkelknochen (Femur)
Arthrose des Hüftgelenks
Die Arthrose ist ein meist altersbedingter Verschleiß eines Gelenkes, bei dem es zu einem Knorpelabrieb kommt. Die Abriebpartikel verursachen eine Entzündungsreaktion, die zu vermehrter Schmierflüssigkeitsbildung führt. Zudem wirkt die Entzündung ab einem gewissen Grade selbst knorpelzerstörend, was zu noch mehr Knorpelzersetzung führt. Außerdem reagiert der Knochen auf die zunehmende Belastung zunächst mit stärkerer Verkalkung (Sklerosierung). Später wird er in die selbstzerstörende Entzündungsreaktion mit einbezogen. Es wird Knochen abgebaut und Zysten entstehen. Dafür bildet der Körper am Gelenkrand knöcherne Anbauten (Osteophyten), um das zerstörte Gelenk langfristig zu versteifen und damit den Schmerzzustand zu beenden.
Die Arthrose verläuft also in verschiedenen Stadien, die gut auf dem Röntgenbild sichtbar und zu beurteilen sind, weshalb das Röntgenbild das wichtigste Diagnostikum bezüglich der Arthrose ist.
Die Erkrankung läuft wellenförmig ab, so dass auf stärkste Schmerzzustände durchaus Intervalle folgen können, in denen der Patient schmerzfrei ist. Die Häufigkeit der Schmerzzustände nimmt aber im Verlauf der Erkrankung im selben Maße zu, wie sich die Dauer des beschwerdefreien Intervalls verkürzt.
Die wichtigste Botschaft in diesem Zusammenhang ist, dass Arthrose nicht heilbar ist und der Verlauf oft nur symptomatisch (lindernd) zu beeinflussen ist. Das heißt: wenn die Erkrankung soweit fortgeschritten ist, dass physikalische Therapiemaßnahmen, Schmerzmittel und entzündungshemmende Medikamente keinen Nutzen mehr bringen, bleibt als letzte Maßnahme nur der künstliche Gelenkersatz (Endoprothese). Für Interessierte sei hier folgender Link auf die Seite des Deutschen Arthrose Forums genannt:
Hüftgelenkersatz
Im RKU werden jährlich mehr als 400 Hüft-Endoprothesen implantiert. Wir dürfen deshalb von uns behaupten, dass wir über die große Expertise verfügen, die Sie von uns erwarten.
Wir halten ein großes Portfolio moderner und bewährter Prothesen vor, die sich im Prothesendesign unterscheiden. Innerhalb des Designs liegen verschiedene Ausführungen und unterschiedliche Größen vor. Auf der Schaftseite unterscheiden wir Kurzschaft, Geradschaft, anatomischer Schaft und modularer Schaft. Auf der Pfannenseite verwenden wir moderne "Press-fit-Pfannen", die sich primär im Knochen verklemmen und sekundär vom Körper in den Knochen integriert werden. Defektsituationen können entweder durch Verwendung von Fremdknochen aus der von uns geführten Knochenbank oder durch Implantation von Tantal-Augmentaten behandelt werden.
Die Standardversorgung ist, abhängig von Alter und Knochensubstanz, die zementfreie Implantation von Schaft und Pfanne. Bei weicherer Knochenkonsistenz verwenden wir eine sogenannte "Hybrid-Verankerung"; gemeint ist die zementfreie Pfannenverankerung bei zementiertem Schaft. In Ausnahmefällen wird bei besonders weicher Knochensituation die Prothese komplett zementiert. Falls bei Ihnen Allergien nachgewiesen wurden, finden hypoallergene ("allergiefreie") Implantate Anwendung.
Während Ihres ersten Besuches bei uns in der Ambulanz wird durch das persönliche Gespräch mit dem Arzt, die körperliche Untersuchung und anhand der Röntgenaufnahmen das Stadium der Arthrose und Ihre persönliche Beeinträchtigung festgestellt. Bitte bringen Sie zu diesem Termin alle bereits durchgeführten Untersuchungen, alle Röntgen-, CT- oder MRT-Bilder, ggf. Arztbriefe bestehender Nebenerkrankungen oder einen etwaig vorhandenen Allergiepass etc. mit.
Sollte bei Ihnen eine Endoprothese in Frage kommen, wird durch Beurteilung verschiedener Faktoren der Prothesentyp aus dem o. g. Portfolio für Sie ausgesucht. Zudem wird beurteilt, welcher Zugangsweg, ob minimalinvasiv oder seitlicher Standardzugang, für Sie in Frage kommt. Hierbei gehen wir gerne auf Ihre Vorstellungen ein und wägen sorgfältig unsere Überlegungen mit Ihnen ab.
Egal ob minimalinvasiver Zugang oder seitlicher Standardzugang: wir legen äußersten Wert auf größtmögliche Weichteilschonung. Die Folgen dieser Sorgfalt merken Sie, denn sie machen sich durch weniger Schmerzen, kürzere Liegedauer und schnellere Rekonvaleszenz bemerkbar.
Stationäre Aufnahme und Operation
Am Vortag der Operation erfolgt die stationäre Aufnahme. Durch den Stationsarzt und den erfahrenen Operateur wird die Indikation zur Operation abschließend geprüft und die Operation verhindernde Faktoren (z.B. akute Erkrankungen) ausgeschlossen. Bei der Aufnahme erfolgt auch die Aufklärung über die Operation, bei der erneut die Risiken der Operation mit dem Nutzen abgewogen werden. Die Risiken der Operation sollen auch hier nicht unerwähnt bleiben: sie sind im Wesentlichen die Blutung, der Bluterguss, die Infektion, die Nervenläsion, die Thrombose sowie die Embolie. Der stationäre Aufenthalt wird ca. 10 bis 14 Tage dauern. Anschließend wird eine Anschlussheilbehandlung (Rehabilitationsmaßnahme, kurz: Reha) empfohlen und für Sie eingeleitet.
Während des Eingriffes wird Ihr Gelenk gegen ein künstliches Gelenk ausgetauscht. Der Eingriff dauert in aller Regel ein bis eineinhalb Stunden und kann in Allgemein- oder Teilnarkose durchgeführt werden. Welche Art der Narkose für Sie in Frage kommt, wird Ihr Narkosearzt mit Ihnen besprechen. Durch das prä- und intraoperative Blutmanagement der Anästhesieabteilung werden Fremdblutkonserven normaler Weise nicht benötigt. Am ersten postoperativen Tag werden Sie auf die Normalstation verlegt, wo mit der Mobilisierung begonnen wird. Während des stationären Aufenthaltes werden Sie einen sicheren und selbständigen Gang wiedererlernen – in der Regel ohne Belastungseinschränkungen. Die Entlassung erfolgt, wenn Wund- und Weichteilverhältnisse regelhaft abgeheilt sind, Sie einen sicheren Gang erlernt haben, und keine medizinischen Gründe gegen eine Entlassung oder eine Verlegung zur Anschlussheilbehandlung sprechen.
Kutzner KP, Freitag T, Bieger R. Defining 'undersizing' in short-stem total hip arthroplasty: the importance of sufficient contact with the lateral femoral cortex. Hip Int 2022; 32(2):160-165
Lutz B, Polcikova L, Faschingbauer M, Reichel H, Bieger R. The epicondylar ratio can be reliably determined in both computed tomography and X-ray. Arch Orthop Trauma Surg 2022; 142(6):1185-1188
Gvaramia D, Kern J, Jakob Y, Tritschler H, Brenner RE, Breiter R, Kzhyshkowska J, Rotter N. Modulation of the inflammatory response to decellularized collagen matrix for cartilage regeneration. J Biomed Mater Res A 2022; 110(5):1021-1035
Ruths L, Huber-Lang M, Schulze-Tanzil G, Brenner RE, Riegger J. ANAPHYLATOXINS AMPLIFY CALCIFICATION DURING OSTEOGENIC DIFFERENTIATION OF ARTICULAR CHONDROCYTES. Osteoarthritis Cartilage 2022; 30 Suppl 1:183-184
Fuchs M, Faschingbauer M, Riklin-Dold M, Morovic P, Reichel H, Trampuz A, Karbysheva S. D-lactate is a promising biomarker for the diagnosis of periprosthetic joint infection. Front Surg 2022; 9
Khury F, Oltmanns M, Fuchs M, Leiprecht J, Reichel H, Faschingbauer M. Against the Norm: Do Not Rely on Serum C-Reactive Protein and White Blood Cell Count Only When Assessing Eradication of Periprosthetic Joint Infection. Antibiotics (Basel) 2022; 11(9)
Freitag T, Reichel H. [Contemporary indications for aseptic revision total hip arthroplasty]. Orthopadie (Heidelb) 2022; 51(8):609-618
Schadler P, Lohberger B, Thauerer B, Faschingbauer M, Kullich W, Stradner MH, Leithner A, Ritschl V, Omara M, Steinecker-Frohnwieser B. The Association of Blood Biomarkers and Body Mass Index in Knee Osteoarthritis: A Cross-Sectional Study. Cartilage 2022; 13(1)
Kirschbaum S, Weynandt C, Fuchs M, Perka C, Gwinner C. Major Shortening of the Patellar Tendon During Septic Two-Stage Knee Arthroplasty Revision Using Static Spacers. J Arthroplasty 2022; 37(9):1851-1857
Fuchs M, Gwinner C, Meißner N, Pfitzner T, Perka C, von Roth P. Therapy of chronic extensor mechanism deficiency after total knee arthroplasty using a monofilament polypropylene mesh. Front Surg 2022; 9
Koliogiannis VKA, Brandlhuber M, Messerschmidt V, Stahl R, Melcher C, Schinner R, Birkenmaier C, Ricke J, Baur-Melnyk A. Is the EOS imaging system as accurate as conventional radiography in grading osteoarthritis of the knee? Eur Radiol 2021; 31(5):3491-3497
Faschingbauer M, Hacker S, Seitz A, Dürselen L, Boettner F, Reichel H. The tibial cut in total knee arthroplasty influences the varus alignment, the femoral roll-back and the tibiofemoral rotation in patients with constitutional varus. Knee Surg Sports Traumatol Arthrosc 2021; 29(2):641-651
Rueckl K, Runer A, Jungwirth-Weinberger A, Kasparek MF, Faschingbauer M, Boettner F. Severity of valgus knee osteoarthritis has no effect on clinical outcomes after total knee arthroplasty. Arch Orthop Trauma Surg 2021; 141(8):1385-1391
Kirschbaum S, Fuchs M, Otto M, Gwinner C, Perka C, Sentürk U, Pfitzner T. Reaction time and brake pedal force after total knee replacement: timeframe for return to car driving. Knee Surg Sports Traumatol Arthrosc 2021; 29(10):3213-3220
Herrmann M, Diederichs S, Melnik S, Riegger J, Trivanović D, Li S, Jenei-Lanzl Z, Brenner RE, Huber-Lang M, Zaucke F, Schildberg FA, Grässel S. Extracellular Vesicles in Musculoskeletal Pathologies and Regeneration. Front Bioeng Biotechnol 2021; 8
Faschingbauer M, Reichel H. [Revision TKA due to instability: diagnostics, treatment options and outcomes]. Orthopade 2021; 50(12):979-986
Fuchs M, Hein MA, Faschingbauer M, Sgroi M, Bieger R, Reichel H, Freitag T. Abductor Muscle Force after Straight-Stem Compared to Short-Stem Total Hip Arthroplasty through a Modified Direct Lateral Approach: Functional Assessment of 70 Consecutive Patients of a Randomized Controlled Clinical Trial. J Clin Med 2021; 10(6)
Freitag T, Bieger R, Kiefer H, Dornacher D, Reichel H, Ignatius A, Dürselen L. Biomechanics of a calcar loading and a shortened tapered femoral stem: Comparative in-vitro testing of primary stability and strain distribution. J Exp Orthop 2021; 8(1)
Reichel H, Fuchs M. [Acetabular cup replacement]. Orthopade 2021; 50(10):832-834
Freitag T, Kutzner KP, Bieger R, Reichel H, Ignatius A, Dürselen L. Biomechanics of a cemented short stem: a comparative in vitro study regarding primary stability and maximum fracture load. Arch Orthop Trauma Surg 2021; 141(10):1797-1806
Khury F, Fuchs M, Awan Malik H, Leiprecht J, Reichel H, Faschingbauer M. Validation of joint space narrowing on plain radiographs and its relevance to partial knee arthroplasty. Bone Joint Res 2021; 10(3):173-187
Fuchs M, Kirchhoff F, Reichel H, Perka C, Faschingbauer M, Gwinner C. Variation of synovial fluid leucocyte cell count and polymorphonuclear percentage in patients with aseptic revision total knee arthroplasty. Bone Jt Open 2021; 2(8):566-572
Teixeira GQ, Yong Z, Kuhn A, Riegger J, Goncalves RM, Ruf M, Mauer UM, Huber-Lang M, Ignatius A, Brenner RE, Neidlinger-Wilke C. Interleukin-1β and cathepsin D modulate formation of the terminal complement complex in cultured human disc tissue. Eur Spine J 2021; 30(8):2247-2256
Tritschler H, Fischer K, Seissler J, Fiedler J, Halbgebauer R, Huber-Lang M, Schnieke A, Brenner RE. New Insights into Xenotransplantation for Cartilage Repair: Porcine Multi-Genetically Modified Chondrocytes as a Promising Cell Source. Cells 2021; 10(8)
Riegger J, Baumert J, Zaucke F, Brenner RE. The Hexosamine Biosynthetic Pathway as a Therapeutic Target after Cartilage Trauma: Modification of Chondrocyte Survival and Metabolism by Glucosamine Derivatives and PUGNAc in an Ex Vivo Model. Int J Mol Sci 2021; 22(14)
Klimek M, Büchele G, Rehm M, Beyersmann J, Günther KP, Brenner H, Stürmer T, Brenner RE, Rothenbacher D. Long-term mortality of patients with osteoarthritis after joint replacement: Prognostic value of pre- and postoperative pain and function. Arthritis Care Res (Hoboken) 2021;
Schadler P, Lohberger B, Thauerer B, Faschingbauer M, Kullich W, Stradner MH, Husic R, Leithner A, Steinecker-Frohnwieser B. Fatty Acid-Binding Protein 4 (FABP4) Is Associated with Cartilage Thickness in End-Stage Knee Osteoarthritis. Cartilage 2021; 13(2_suppl):1165-1173
Faschingbauer M. "Editorial Commentary: Posterior Tibial Slope: The ""Unknown Size"" of the Knee Joint.". Arthroscopy 2021; 37(1):250-251
Seitz AM, Osthaus F, Schwer J, Warnecke D, Faschingbauer M, Sgroi M, Ignatius A, Dürselen L. Osteoarthritis-Related Degeneration Alters the Biomechanical Properties of Human Menisci Before the Articular Cartilage. Front Bioeng Biotechnol 2021; 9
Waldstein W, Bouché PA, Pottmann C, Faschingbauer M, Aldinger PR, Windhager R, Merle C. Quantitative and individualized assessment of the learning curve in preoperative planning of the acetabular cup size in primary total hip arthroplasty. Arch Orthop Trauma Surg 2021; 141(9):1601-1608
Fuchs M, Trampuz A, Kirschbaum S, Winkler T, Sass FA. Soluble Pecam-1 as a Biomarker in Periprosthetic Joint Infection. J Clin Med 2021; 10(4)
Faschingbauer M, Kasparek M, Waldstein W, Schadler P, Reichel H, Boettner F. Cartilage survival of the knee strongly depends on malalignment: a survival analysis from the Osteoarthritis Initiative (OAI). Knee Surg Sports Traumatol Arthrosc 2020; 28(5):1346-1355.
Kutzner KP, Ried E, Donner S, Bieger R, Pfeil J, Freitag T. Mid-term migration pattern of a calcar-guided short stem: A five-year EBRA-FCA-study. J Orthop Sci 2020; 25(6):1015-1020.
Meyer JS, Freitag T, Reichel H, Bieger R. Mid-term gender-specific differences in periprosthetic bone remodelling after implantation of a curved bone-preserving hip stem. Orthop Traumatol Surg Res 2020; 106(8):1495-1500.
Kutzner KP, Freitag T, Bieger R. Defining 'undersizing' in short-stem total hip arthroplasty: the importance of sufficient contact with the lateral femoral cortex. Hip Int 2020.
Faschingbauer M, Bieger R, Kappe T, Weiner C, Freitag T, Reichel H. Difficult to treat: are there organism-dependent differences and overall risk factors in success rates for two-stage knee revision?. Arch Orthop Trauma Surg 2020; 140(11):1595-1602.
Faschingbauer M, Hacker S, Seitz A, Dürselen L, Boettner F, Reichel H. The tibial cut influences the patellofemoral knee kinematics and pressure distribution in total knee arthroplasty with constitutional varus alignment. Knee Surg Sports Traumatol Arthrosc 2020; 28(10):3258-3269.
Boettner F, Sculco P, Faschingbauer M, Rueckl K, Windhager R, Kasparek MF. Clinical outcome of posterior-stabilized total knee arthroplasty using an increased flexion gap in patients with preoperative stiffness. Bone Joint J 2020; 102-B(4):426-433.
Fuchs M, Pumberger M, Hommel H, Perka C, von Roth P, Thiele K. Bacterial Colonization of Irrigation Fluid during Aseptic Revision Knee Arthroplasty. J Clin Med 2020; 9(9).
Boettner F, Bechler U, Springer B, Faschingbauer M, Jungwirth-Weinberger A. Impaction Bone Grafting in Revision Total Knee Arthroplasty-Using Mesh and Cone to Contain the Defect: A Report of 3 Cases. Arthroplast Today 2020; 6(3):578-584.
Riegger J, Rehm M, Büchele G, Brenner H, Günther KP, Rothenbacher D, Brenner RE. Serum Cartilage Oligomeric Matrix Protein in Late-Stage Osteoarthritis: Association with Clinical Features, Renal Function, and Cardiovascular Biomarkers. J Clin Med 2020; 9(1).
Riegger J, Brenner RE. Pathomechanisms of Posttraumatic Osteoarthritis: Chondrocyte Behavior and Fate in a Precarious Environment. Int J Mol Sci 2020; 21(5)
Faschingbauer M, Kasparek M, Waldstein W, Schadler P, Reichel H, Boettner F. Cartilage survival of the knee strongly depends on malalignment: a survival analysis from the Osteoarthritis initiative. Knee Surg Sports Traumatol Arthrosc 2019 Mar 6.
Freitag T, Fuchs M, Woelfle-Roos JV, Reichel H, Bieger R. Mid-term migration analysis of a femoral short-stem prosthesis: a five-year EBRA-FCA-study. Hip Int. 2019 Mar;29(2):128-133.
Lutz B, Trubrich A, Kappe T, Reichel H, Bieger R. The epicondylar ratio can be reliably used on X-Ray of the knee to determine the joint line. Arch Orthop Trauma Surg 138 (2018) 1287-1292.
Freitag T, Faschingbauer M, Lutz B, Bieger R, Reichel H. Azetabuläre Revision: Rekonstruktion kavitärer und segmentaler Defekte unter besonderer Berücksichtigung modularer hoch poröser Pfannensysteme. Z Orthop Unfall 156 (2018) 692-703
Faschingbauer M, Boettner, Bieger R, Weiner C, Reichel H, Kappe T. Outcome of irrigation and debridement after failed two-stage reimplantation for periprosthetic joint infection. BioMed Res Internat 2018, doi.org/10.1155/2018/2875018
Kutzner KP, Freitag T, Kovacevis MP, Pfeil D, Reichel H, Bieger R. One-stage bilateral versus unilateral short-stem total hip arthroplasty: comparison of migration patterns using "Ein-Bild-Roentgen-Analysis Femoral-Component-Analysis". Int Orthop. 2017;41(1): 61-6.
Kasparek MF, Faschingbauer M, Waldstein W, Boettner CS, Boettner F. Topical Tranexamic Acid is Equivalent to Targeted Preoperative Autologous Blood Donation in Total Hip Arthroplasty. J Arthroplasty. 2017 Apr;32(4): 1176-1179.
Faschingbauer M, Kasparek M, Schadler P, Trubrich A, Urlaub S, Boettner F. Predictive values of WOMAC, KOOS, and SF-12 score for knee arthroplasty: data from the OAI. Knee Surg Sports Traumatol Arthrosc. 2017 Nov;25(11): 3333-3339.
Boettner F, Zingg M, Emara AK, Waldstein W, Faschingbauer M, Kasparek MF. The Accuracy of Acetabular Component Position Using a Novel Method to Determine Anteversion. J Arthroplasty. 2017 Apr;32(4):1180-1185.
Bieger R, Freitag T, Ignatius A, Reichel H, Dürselen L. Primary stability of a shoulderless Zweymüller hip stem: A comparative in vitro micromotion study. J Orthop Surg Res 2016; 11(7):73
Boettner F, Sculco P, Lipman J, Saboeiro G, Renner L, Faschingbauer M. The effect of a low radiation CT protocol on accuracy of CT guided implant migration measurement: A cadaver study. J Orthop Res 2016; 34(4):725-8
Boettner F, Renner L, Arana Narbarte D, Egidy C, Faschingbauer M. Total knee arthroplasty for valgus osteoarthritis: the results of a standardized soft-tissue release technique. Knee Surg Sports Traumatol Arthrosc 2016; 24(8):2525-31
Boettner F, Sculco P, Lipmann J, Renner L, Faschingbauer M. A novel method to measure femoral component migration by computed tomography: a cadaver study. Arch Orthop Trauma Surg 2016; 136(6):857-63
Elsaesser AF, Schwarz S, Joos H, Koerber L, Brenner RE, Rotter N. Characterization of a migrative subpopulation of adult human nasoseptal chondrocytes with progenitor cell features and their potential for in vivo cartilage regeneration strategies. Cell Biosci 2016; 6:11
Faschingbauer M, Bieger R, Reichel H, Weiner C, Kappe T. Complications associated with 133 static, antibiotic-laden spacers after TKA. Knee Surg Sports Traumatol Arthrosc 2016; 24(10):3096-9
Freitag T, Hein MA, Wernerus D, Reichel H, Bieger R. Bone remodelling after femoral short stem implantation in total hip arthroplasty: 1-year results from a randomized DEXA study. Arch Orthop Trauma Surg 2016; 136:125-30
Freitag, T. Schenkelhalsteilerhaltender vs. Schenkelhalsresezierender Kurzschaft. Eine vergleichende In-vitro-Primärstabilitätsanalyse. Current congress 2016; 14
Hildebrand F, Gebhard F, Reichel H, Nerlich M, Loibl M. Kooperation der DGOU und der Orthopaedic Research Society (ORS). Z Orthop Unfall 2016; 154:330-1
Kutzner KP, Kovacevic MP, Freitag T, Fuchs A, Reichel H, Bieger R. Influence of patient-related characteristics on early migration in calcar-guided short-stem total hip arthroplasty: a 2-year migration analysis using EBRA-FCA. J Orthop Surg Res 2016; 11:29
Lutz B, Faschingbauer M, Bieger R, Reichel H, Kappe T. Azetabuläre Osteolysen bei Hüft-TEP: Wann kann die Pfanne belassen werden? Z Orthop Unfall 2016; 154:377-84
Reichel H, Gebhard F. Infektionen in Orthopädie und Unfallchirurgie: Diagnostik und Therapie. Chirurg 2016; 87:811-2
Reichel H, Gebhard F, Neubert M. Editorial für die Zeitschrift für Orthopädie und Unfallchirurgie. Z Orthop Unfall 2016; 154:439
Reinhardt S, Martin H, Ulmar B, Döbele S, Zwipp H, Rammelt S, Richter M, Pompach M, Mittlmeier T. Interlocking Nailing Versus Interlocking Plating in Intra-articular Calcaneal Fractures: A Biomechanical Study. Foot Ankle Int 2016; 37(8):891-7
Renner L, Faschingbauer M, Schmidt-Braekling T, Boettner F. Cobalt serum levels differ in well functioning Birmingham resurfacing and Birmingham modular THA. Arch Orthop Trauma Surg 2016; 136(5):715-21
Renner L, Schmidt-Braekling T, Faschingbauer M, Boettner F. Do cobalt and chromium levels predict osteolysis in metal-on-metal total hip arthroplasty? Arch Orthop Trauma Surg 2016; 136(12):1657-62
Riegger J, Joos H, Palm HG, Friemert B, Reichel H, Ignatius A, Brenner RE. Antioxidative therapy in an ex vivo human cartilage trauma-model: attenuation of trauma-induced cell loss and ECM-destructive enzymes by N-acetyl cysteine. Osteoarthritis Cartilage 2016; 24(12):2171-80
Rotter N, Brenner RE. Cartilage repair across germ layer origins. Lancet 2016; 388(10055):1957-1958
Woelfle-Roos JV, Dautel L, Wernerus D, Woelfle KD, Reichel H. Vascular calcifications on the preoperative radiograph: Predictor of ischaemic complications in total knee arthroplasty? J Arthroplasty 2016; 31:1078-1082
Wölfle-Roos JV, Urlaub S, Reichel H, Taurman R. Significantly lower femoral neck growth in screw fixation of the asymptomatic contralateral hip in unilateral slipped capital femoral epiphysis. J Pediatr Orthop Part 2016; 25(3):197-201
Kutzner KP, Freitag T, Kovacevic MP, Pfeil D, Reichel H, Bieger R. One-stage bilateral versus unilateral short-stem total hip arthroplasty: Comparison of migration patterns using "Einbild-Roentgen-Analysis Femoral-Component-Analysis". Int Orthop 2016
Dornacher D, Trubrich A, Guelke J, Reichel H, Kappe T. Evaluation of a modified knee rotation angle in MRI scans with and without trochlear dysplasia: a parameter independent of knee size and trochlear morphology. Knee Surg Sports Traumatol Arthrosc 2016
Boettner F, Zingg M, Emara AK, Waldstein W, Faschingbauer M, Kasparek MF. The Accuracy of Acetabular Component Position Using a Novel Method to Determine Anteversion. J Arthroplasty 2016
Kasparek MF, Faschingbauer M, Waldstein W, Boettner CS, Boettner F. Topical Tranexamic Acid is Equivalent to Targeted Preoperative Autologous Blood Donation in Total Hip Arthroplasty. J Arthroplasty 2016
Faschingbauer M, Kasparek M, Schadler P, Trubrich A, Urlaub S, Boettner F. Predictive values of WOMAC, KOOS, and SF-12 score for knee arthroplasty: data from the OAI. Knee Surg Sports Traumatol Arthrosc 2016
Waldstein W, Kasparek MF, Faschingbauer M, Windhager R, Boettner F. Lateral-compartment Osteophytes are not Associated With Lateral-compartment Cartilage Degeneration in Arthritic Varus Knees. Clin Orthop Relat Res 2016
Reichel H, Bieger R. Kapitel 12.6 Alloarthroplastik. In: Kohn D (Hrsg) Expertise Knie. Stuttgart, Thieme 2016; S. 319-348
Reichel H. Kapitel 23: Komplikationen in der Endoprothetik. In: Wirth CJ, Mutschler W, Neu J (Hrsg) Komplikationen Kompakt: Orthopädie und Unfallchirurgie kompakt. Stuttgart, Thieme 2016; S. 119-133
Faschingbauer M, Reichel H, Bieger R, Kappe T. Mechanical complications with one hundred and thirty eight (antibiotic-laden) cement spacers in the treatment of periprosthetic infection after total hip arthroplasty. Int Orthop 2015; 39:989-994
Sgroi M, Faschingbauer M, Javaheripour-Otto K, Reichel H, Kappe T. Can rotational alignment of total knee arthroplasty be measured on MRI? Arch Orthop Trauma Surg 2015; 135(11):1589-1594
Boettner F, Sculco P, Lipman J, Saboeiro G, Renner L, Faschingbauer M. The effect of a low radiation CT protocol to accuracy of CT guided implant migration measurement: A Cadaver study. J Orthop Res 2015; [Epub ahead of print]
Faschingbauer M, Kappe T, Trubrich A, Bieger R, Reichel H. Gelenkerhalt bei Frühinfektion nach Hüfttotalendoprothese. Z Orthop Unfall 2015; 153:192-197
Renner L, Faschingbauer M, Boettner F. Is there a rationale to us highly cross-linked polyethylene in posterior-stabilized total-knee arthroplasty? Ann Transl Med 2015; 3:63
Faschingbauer M, Bieger R, Reichel H, Weiner C, Kappe T. Complications associated with 133 static, antibiotic-laden spacers after TKA. Knee Surg Sports Traumatol Arthrosc 2015; Epub ahead of print
Wölfle JV, Fiedler, J, Dürselen L, Reichert J, Scharnweber D, Förster A, Schwenzer B, Reichel H, Ignatius A, Brenner RE. Improved anchorage of Ti6Al4V orthopaedic bone implants through oligonucleotide mediated immobilization of BMP-2 in osteoporotic rats. PLoS ONE 2014; 9:e86151
Dornacher D, Kappe T, Reichel H. Die Gonarthrose des jüngeren Patienten – wen sollte man knieendoprothetisch versorgen, wen nicht? Z Orthop Unfall 2014; 152:270-275
Woelfle JV, Fraitzl CR, Reichel H, Wernerus D. Significantly reduced leg length discrepancy and increased femoral offset by application of a head-neck adapter in revision total hip arthroplasty. J Arthroplasty 2014; 29:1301-1307
Bieger R, Cakir B, Reichel H, Kappe T. Erkennung von Hüftschaftsinterungen am Röntgenbild: Reliabilitätsuntersuchungen knöcherner und prothetischer Landmarken. Orthopäde 2014; 43:934-938
Faschingbauer M, Sgroi M, Juchems M, Reichel H, Kappe T. Faschingbauer M, Sgroi M, Juchems M, Reichel H, Kappe T: Can the tibial slope be measured on lateral knee radioghraphs? Knee Surg Sports Traumatol Arthrosc 2014; 22(12):3163-3167
Bieger R, Huch K, Kocak S, Jung S, Reichel H, Kappe T. The influence of joint line restoration on the results of revision total knee arthroplasty: Comparison between distance and ratio-methods. Arch Orthop Trauma Surg 2014; 134(4):537-541
Freitag T, Kappe T, Fuchs M, Jung S, Reichel H, Bieger R. Migration pattern of a femoral short -stem prosthesis: a 2-year EBRA-FCA-study. Arch Orthop Trauma Surg 2014; 134(7):1003-1008
Bieger R, Kappe T, Fraitzl CR, Reichel H. The aetiology of primary knee arthroplasty failure influences the improvement in knee function. Arch Orthop Trauma Surg 2013; 133(2):237-241
Bieger R, Kappe T, Jung S, Wernerus D, Reichel H. Hat der Body-Mass-Index Einfluss auf das Ergebnis nach Knieendoprothesenwechseln? Z Orthop Unfall 2013; 151:226-230
Jung S, Kappe T, Bieger R, Reichel H. Zulassung einer lokalen Knochenbank nach § 20 b und c AMG und Einführung einer Thermodesinfektion: Lohnt sich der Aufwand? Z Orthop Unfall 2013; 151:291-295
Bieger R, Ignatius A, Reichel H, Dürselen L. Biomechanics of a short stem: In vitro primary stability and stress shielding of a conservative cementless hip stem. J Orthop Res 2013; 31:1180-1186
Bieger R, Wernerus D, Kappe T, Reichel H. Behandlung der Strecksehnenruptur bei liegender Knietotalendoprothese. Z Orthop Unfall 2013; 151:475-479
Neuerburg C, Recknagel S, Fiedler J, Groll J, Moeller M, Bruellhoff K, Reichel H, Ignatius A, Brenne. Ultrathin sP(EO-stat-PO) hydrogel coatings are biocompatible and preserve functionality of surface bound growth factors in vivo. J Mater Sci Mater Med 2013; 24:2417-2427
Bieger R, Ignatius A, Decking R, Claes L, Reichel H, Dürselen L. Initial stability and strain distribution of cementless hip stems as a function of implant design and length. Clin Biomech (Bristol, Avon) 2012; 27:158-164
Jung S, Wernerus D, Reichel H. Zulassung einer klinikeigenen Knochenbank: ein Erfahrungsbericht. Orthopäde 2012; 41:217-224
Jung S, Neuerburg C, Kappe T, Wernerus D, Reichel H, Bieger R. Validität der computergestützten Hüfttotalendoprothesenplanung: Einfluss von Schaftdesign und Untersuchererfahrung. Z Orthop Unfall 2012; 150:404-408
Leucht F, Dürselen L, Hogrefe C, Joos H, Reichel H, Schmidt, Ignatius A, Brenner RE. Development of a new biomechanically defined single impact rabbit cartilage trauma model for in vivo-studies. J Invest Surg 2012; 25:235-241
Neuerburg C, Bieger R, Jung S, Kappe T, Reichel H, Decking R. Bridging knee arthrodesis for limb salvage using an intramedullary cemented nail: a retrospective outcome analysis of a case series. Arch Orthop Trauma Surg 2012; 132:1183-1189
Decking R, Mattes T, Reichel H. Klinische Behandlungspfade in der Hüftendoprothetik. In: Claes L, Kirschner P, Perka C, Rudert M (Hrsg) AE-Manual der Endoprothetik: Hüfte und Hüftrevision. Heidelberg: Springer 2012; S. 138-141
Decking R, Reichel H, Müller NH. Patientenaufklärung. In: Claes L, Kirschner P, Perka C, Rudert M (Hrsg) AE-Manual der Endoprothetik: Hüfte und Hüftrevision. Heidelberg: Springer 2012; S. 141-145
Decking R, Reichel H. Infektionsprophylaxe. In: Claes L, Kirschner P, Perka C, Rudert M (Hrsg) AE-Manual der Endoprothetik: Hüfte und Hüftrevision. Heidelberg: Springer 2012; S. 145-151
Mattes T, Decking R, Reichel H. Präoperative Planung. In: Claes L, Kirschner P, Perka C, Rudert M (Hrsg) AE-Manual der Endoprothetik: Hüfte und Hüftrevision. Heidelberg: Springer 2012; S. 151-159
Fraitzl CR, Moya LE, Castellani L, Wright TM, Buly RL. Corrosion at the stem-sleeve interface of a modular titanum alloy femoral component as a reason for impaired disengagement. J Arthroplasty 2011; 26:113-119
Bieger R, Martini F, Reichel H, Decking R. Changes of periprosthetic bone density after implantation of an anatomical femoral stem with cemented and cementless fixation. Hip Int 2011; 21:317-324
Kappe T, Bieger R, Wernerus D, Reichel H. Minimalinvasive Hüftendoprothetik – nur Trend oder schon Standard? Eine Meta-Analyse. Orthopäde 2011; 40:774-780
Kappe T, Flören M, Bieger R, Reichel H. Aktueller Stellenwert der minimal-invasiven Knieendoprothetik: Eine Meta-Analyse. Orthopäde 2011; 40:726-730
Kappe T, Cakir B, Mattes T, Reichel H, Flören M. Infections after bone allograft surgery: a prospective study by a hospital bone bank using frozen femoral heads from living donors. Cell Tissue Bank 2010; 11(3):253-9
Huch K, Weithöner KA, Günther KP, Reichel H, Mattes T. Sportliche Belastung und Belastbarkeit nach endoprothetischem Gelenkersatz. Dtsch Z Sportmed 2009; 60:84-89
Brunner A, Ulmar B, Reichel H, Decking R. The Eftekhar and Kerboul classifications in assessment of developmental dysplasia of the hip in adult patients: Measurement of inter- and intraobserver reliability. HSS J 2008; 4:25-31
Flören M, Reichel H, Davis J, Laskin RS. The mini-incision mid-vastus approach for total knee arthroplasty. Oper Orthop Traumatol 2008; 20:534-543
Flören M, Kappe T, Reichel H. Effektivitätsanalyse einer klinikinternen allogenen Knochenbank. Orthopäde 2007; 36:667-672
Mattes T, Fraitzl C, Ostertag O, Reichel H. Differentialdiagnosen der aseptischen Hüftkopfnekrose – Artikulärer Leistenschmerz des Erwachsenen. Orthopäde 2007; 36:414-422
Hube R, Zaage M, Hein W, Reichel H. Frühfunktionelle Ergebnisse einer Kurzschaftprothese des Hüftgelenks mit metaphysär-intertrochantärer Verankerung. Orthopäde 2004; 33:1249-1258
Hube R, Reichel H. Modulare Revisionssysteme in der Knieendoprothetik: Möglichkeiten und Techniken. Orthopäde 2003; 32:506-515
Reichel H, Hube R, Birke A, Hein W. Knochendefekte beim Knieendoprothesenwechsel: Klassifikation und Management. Zbl Chir 2002; 127:880-885